Medical Spanish for Healthcare Providers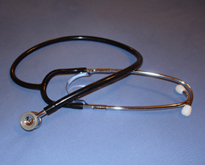 This site is presented as a free medical Spanish immersion, with vocabulary including greetings, history, examination, and everyday speech, all with translation and audio. It is designed to be helpful for a variety of medical personnel. In addition to introducing Spanish medical terms, this site will hopefully improve fluency and even cultural competency.
(See more dialogues in the
Archive
.)
Each dialogue consists of a few statements from the patient, the patient's family, and healthcare providers, including physicians, nurses, paramedics, emergency medical technicians, and medical students. Click to hear my voice and pronunciation. Then, repeat aloud everything you hear. When listening to Spanish medical phrases, feel free to use the pause button, and, of course, replay the recordings when needed.
Click on
anatomy
to learn names of parts of the body and face.
The medical Spanish
videos
page simply adds some variety.
Healthcare Professionals
includes phrases for the medical interview and important medical Spanish terminology, including descriptions of diagnostic studies and how to explain prescriptions. There are also helpful categories for receptionists, social workers, missionaries, and pharmacists.